Dr Helen Young
The name Healing Hands was inspired by Dr Helen Young's mother, Brenda who said: "from an early age, Helen would know exactly where to touch, to make me feel better." Today, many patients often comment on the appropriateness of the clinic's name.
Dr Helen Young graduated from the Welsh Institute of Chiropractic, University of Glamorgan (UK) in 2001, gaining a Bachelor of Science with Honours in Chiropractic BSc (HONS), DC.
Once qualified, Helen then practised chiropractic in clinics around both England and Wales until 2008. It was that same year that she moved to Western Australia. Helen loves living in Perth, together with her husband and two young children, enjoying the great Australian way of life.
As well as establishing Healing Hands Chiropractic, Helen fulfilled her professional dream of creating a multi-practitioner clinic by becoming the proud co-founder of Fremantle Health in 2009. After six years, she relocated to the current practice in South Fremantle and remained in partnership with Benita, the podiatrist at Fremantle Podiatry.
It is her happy and calming nature that attracts patients and instils a sense of confidence. Along with Helen's skill-based expertise, she has a thorough and accommodating approach to each of her patient's needs. She concentrates on musculoskeletal practices, based on evidence. Her unique intuitive method of treatment has developed over many years of working with the human body to bring it back to its natural alignment. Consequently, Helen has built a strong and loyal clientele, largely based on referral.
Helen and the staff look forward to warmly welcoming you to Healing Hands Chiropractic.
Helen's sessions
Monday
Tuesday
Wednesday
Friday
Dr Tanja Ricciardi
Tanja has always been fascinated with human movement and anatomy. In 2006 she completed her Bachelor of Science (Neuroscience major) at the University of Western Australia and then went on to work as a Research Assistant at Sir Charles Gairdner Hospital. Following this she worked in both public and private practice as a Sleep Technician, assisting people with sleep disorders.
She then went on to complete a double degree in Chiropractic at Murdoch University, graduating with distinction and receiving a Vice Chancellor's Award for Academic Excellence and the Australian Chiropractic Association Graduate Chiropractor of the Year award. She has a strong interest in sports chiropractic and exercise rehabilitation, working as a sports trainer for several football clubs and is currently working towards her International Certificate in Sports Chiropractic (ICSC).
She is passionate about helping people get the most out of their body and restoring functional movement through evidence-based chiropractic care, soft tissue techniques, education and exercise. Her treatments have a strong focus on active care- addressing sleep, diet, stress and exercise- to help patients reach their goals.
Outside of work Tanja is a pilates enthusiast and coffee lover. On weekends she can be found exploring cafes and parks in and around Fremantle with her young family. The Ricciardi name has a strong family history in Fremantle and Tanja is very excited to work within the Freo community.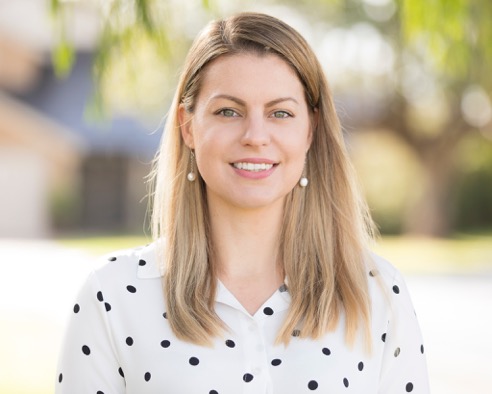 Tanja's sessions
Tuesday
Thursday
Saturday
---
Book an appointment